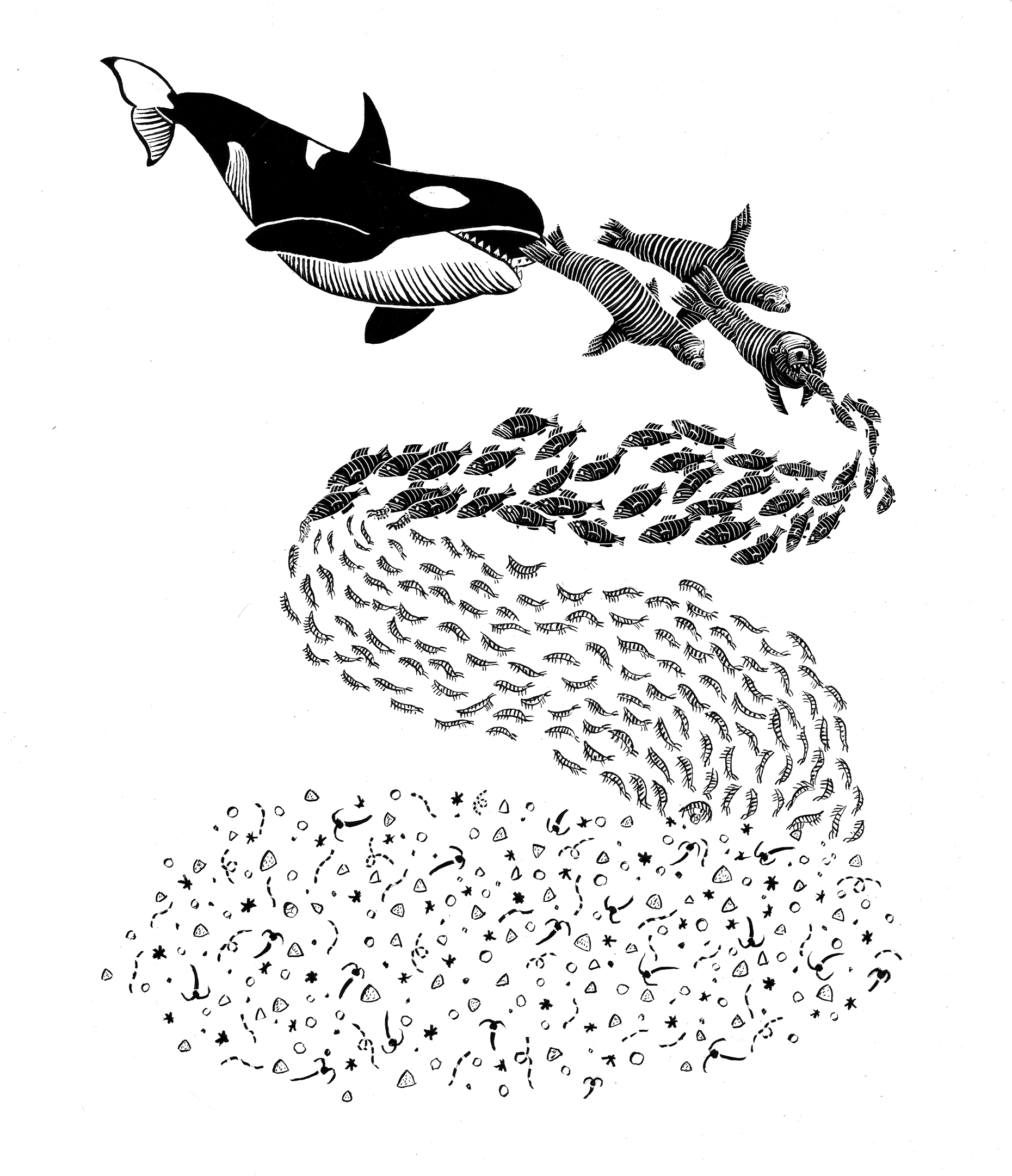 Trophic Pyramid
This reimagined trophic pyramid represents the way energy flows through marine ecosystems, and the relative numbers of organisms at each stage.
How baleen works
Composed of triangular keratin plates, racks of baleen create a filter that traps prey inside the mouth of whales, while letting water escape.
Basilosaurus
The early whale Basilosaurus had a serpentine, bus-length body, and arms that crooked at the elbows.
Basilosaurus Tooth
The fossil teeth of Basilosaurus were palm-sized and saw-shaped, adding to the whale's sea serpent-like appearance.
Blue whale jaws
Housed in the Smithsonian's off-site collections are the largest bones in the world. They are the left and right jaw bones of the largest blue whale specimen in any museum in the world, catalog number USNM 268731. Almost 23 feet long, and each weighing more than a ton dry weight, they rest horizontally on a pair of custom metal frames in the collection.
Krill
Krill are a small crustacean that explode in great aggregations in areas of cold, nutrient-rich water. They form the centerpiece of marine food webs, and are maybe the most abundant animal on the planet.
Pakicetus
One of the earliest whales, Pakicetus was the size of a large domestic dog. It lived in the area now known as Pakistan, which 50 million years ago was an island archipelago.
Pelagornia
With a wingspan of 17 feet (the biggest wingspan of any bird ever) and pseudoteeth formed out of its beak, the extinct seabird Pelagornis was a fierce predator.
Sensory Organ
At the tip of the jaws of a rorqual whale, where the right and left jaw bones meet, is a sensory organ involved in coordinating the complex lunging behavior used by these animals to feed.
Vaquita
A small species of porpoise endemic to the Gulf of California, the vaquita is the most endangered cetacean in the world. Often caught as bycatch from the illegal gillnet fishery for totoaba, there are less than 30 individuals left.
Tag on
Non-invasive tags equipped with sensors and video cameras can give researchers invaluable data on the underwater activities of whales.
Isthminia & Lipotes
Two river dolphin species, separated by millions of years of evolutionary history, but strikingly similar in their elongated snouts, numerous pointy teeth, and pedestal-like foreheads.
La Familia
A trio of fossil whales found at Cerro Ballena in the Atacama Desert, a whale "graveyard" with dozens and dozens of skeletons.
Tools
Whale scientists use an array of techniques to gather data and study whales—dissecting, digging up fossils, and 3D imaging technologies allow researchers to piece together insights into the lives of these elusive creatures.
Orcas
A pod of killer whales glides calmly through the ocean—as the largest species of true oceanic dolphins, they have no ocean-bound predators.
Lunge Sequence
Rorqual whales feed by lunging: surging from below, the whale opens its mouth seconds before arriving at a school of fish. A rush of water and prey floods into the mouth, expanding the accordion-like grooves of the throat. After engulfing the prey-laden water, the whale slows and over the next minute, slowly expels the water out of its throat through a sieve of baleen, before swallowing its prey.
Odobenocetops
With a face and dentition nearly identical to that of living walruses, the extinct whale species Odobenocetops is an amazing example of convergent evolution. They fed on clams on the shallow sea floor off the coast of South America millions of years ago.
Whalefall
Whale carcasses that fall to the ocean floor can sustain whole ecosystems of rare deep sea creatures for over half a century, a fascinating ecological phenomenon that we are only now beginning to understand.
Pakicetus & Blue Whale
Weighing as much as 300 000 pounds and measuring over 100 feet, blue whales are the largest animals that have ever lived. This is about a 10 000 fold increase in size from their early ancestor, Pakicetus, which wouldn't have been much bigger than an average-sized dog around 50 million years ago.
Bubblenet
Humpbacks corral schools of fish by blowing a column of air bubbles around the prey, and then surge up from below with their mouths agape.
Bowheads
The Arctic is warming twice as fast as the rest of the planet—by the mid 2030s, summers may be mostly free of sea ice. A warmer Arctic will open up the region to increased shipping and ocean drilling, along with the unavoidable reality of ships striking whales and oil spills.